OK guys, so I know everyone is SUPER EXCITED about The Hunger Games movie coming out this Friday, March 23rd, and I am pretty much dying to see it as well! So I thought in celebration of the movie, I would do an AWESOME GIVEAWAY for you guys with some sweet prize packs to win!!
You can watch this short video clip to see what the prizes are! :)
Open to US residents only (sorry to all my int'l followers, I'll be having another giveaway VERY SOON that will be open internationally!)
Fabulous, right??! OK, so all you have to do is fill out this entry form to be eligible to WIN!!
Note: If you want to grab the giveaway button to put in your sidebar for extra entries, it is right below this Rafflecopter Entry Form...
a Rafflecopter giveaway
And here is the lovely

Hunger Games Giveaway Button

you can grab to put in your sidebar for extra entries :)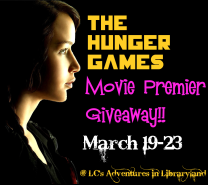 Good luck everyone and-- may the odds be ever in your favor!!
(Duh, of course I had to say that lol )