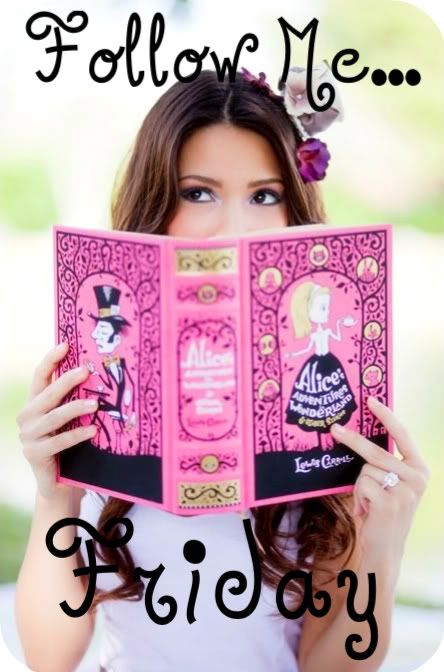 Follow Me Friday
is a fun book meme hosted by the fabulous Parajunkee over at
Parajunkee's View.
Have a book blog? You can play with us too! Just visit Parajunkee's site at the link above-- be sure you are a follower of her blog and the blog she is featuring for the week, put your name in the Linky, create your own FF post on your blog, and then start commenting and following whomever you wish!
So, this week I have been
really busy with work,
so I haven't had much down-time for reading unfortunately! I did finish and review
The Replacement
by Brenna Yovanoff, and I also did a little
"tribute post" to Harry Potter,
just to talk about what the series has meant to me growing up and how I will miss the excitement and anticipation of the book/movie releases. I am currently reading
Wrapped
by Jennifer Bradbury and hope to have it done in a couple days...
Also keep in mind that I am planning a
BIG 500 FOLLOWER CELEBRATION GIVEAWAY
soon!! I'm definitely excited about that and hope you will all stop by to enter :)
This week's Follow Friday question:
Name 3 authors that you would love to sit down and spend an hour or meal with just talking about either books or get advice on writing from?
I am sure that everyone is going to say my first one, but
J.K. Rowling
would be my first pick! I've heard how
Harry Potter
was born on
scraps of napkins
when J.K. was still a struggling single mom, but I would love to sit down and talk about where all her
amazing ideas
came from and how they turned into the magical world from her books!
My second pick would be
Anna Godbersen--
a new, young author who wrote
The Luxe
series, I really loved those, and I guess my third pick would be
Scott Westerfeld
because I love
Steampunk
and I love the world and characters he created in his book
Leviathan.
What authors would you want to meet and talk with?
Leave me a comment
and I will come see what you had to say! :)