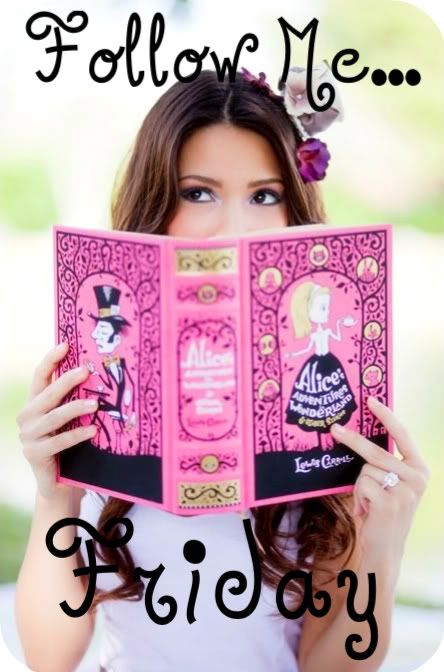 Follow Me Friday
is a fun book meme hosted by the fabulous Parajunkee over at
Parajunkee's View.
Have a book blog? You can play with us too! Just visit Parajunkee's site at the link above-- be sure you are a follower of her blog and the blog she is featuring for the week, put your name in the Linky, create your own FF post on your blog, and then start commenting and following whomever you wish!
This week I worked on the
finishing touches
to my
blog makeover,
and also finished reading and reviewing
Entwined
by Heather Dixon (so cute!) and
Leviathan
by Scott Westerfeld, which was
totally awesome!
In other exciting news, I am planning a
big celebration giveaway
for when I reach the
500 follower mark,
so be sure to keep your eyes out for that! Who knows? It might start this weekend ;)
This week's Follow Friday question:
What do I do when I am not reading?
When I'm not reading (or blogging) I'm usually at work! I'm a
librarian,
and I work part-time at both an academic (college) library and as a substitute at the city branch public libraries, so I am all over the place. For the most part I really like my job(s) and since I want to one day become a
full-time YA/Teen Librarian,
this blog is not only a hobby, it's sort of helping me towards my career goals too! :) So that's pretty awesome.
A specific example of what I do when I'm not reading/blogging: I'm
staying up until 3:30AM
to go see the
opening of Harry Potter and the Deathly Hollows Part 2!!!
Haha, which is why I wasn't able to post my FF question until now at 10:30 in the morning, because I JUST woke up. But that's a totally legit reason, I think, because the movie was
AWESOME.
Like, holy crap, just AWESOME! I'm not going to give anything away to those who haven't seen it yet, but let me just say: 1.)
I cried A LOT,
and 2.)
Professor McGonagall was such a badass!
(Favorite line: "I've always wanted to use that spell" LOVE it!!!) So anyways, sorry for the late posting but I am
dead-tired
today... I am really sad that
the Harry Potter phenomenon is officially over and done with,
but I am planning on checking out this whole
"Pottermore"
online experience in September-- I don't really understand what it is besides an
interactive reading experience,
but it might be cool!
So
Happy Friday
everyone! I'm guessing there's quite a few other fellow HP fans out there who are zombies today! ;)
Leave me a comment and I will get back to you...