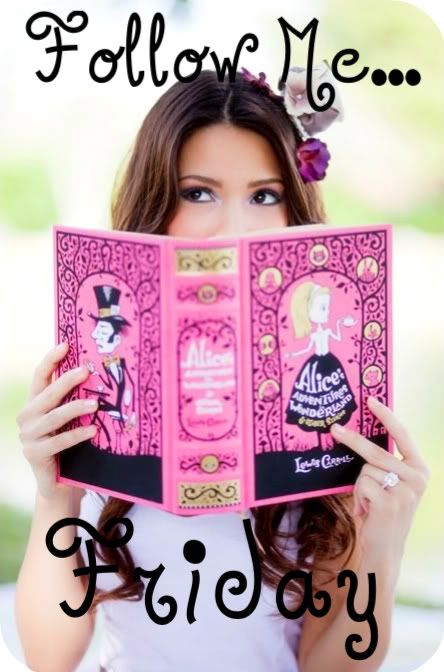 Follow Me Friday
is a fun book meme hosted by the fabulous Parajunkee over at
Parajunkee's View
AND Allison over at
Allison Can Read
.
Have a book blog? You can play with us too! Just visit Parajunkee's site by clicking on LC's Follow Friday icon-- be sure you are a follower of her blog and the blog she is featuring for the week, put your name in the Linky, create your own FF post on your blog, and then start commenting and following whomever you wish!
This week's Follow Friday question:
In books like the Sookie Stackhouse (True Blood) series the paranormal creature in question "comes out of the closet" and makes itself known to the world. Which mythical creature do you wish would come out of the closet, for real?
Um... haha, I'm not sure I totally understand what this question is asking, but I guess I would say that, if I had to choose one type of "mythological creature" to make itself known, my first answer would be vampires, due to the fact that I'm reading the Vampire Academy series right now by Richelle Mead, and they're all I can think about! But obviously, they would have to be the incredibly sexy Moroi and Dhampir kinds-- not those gross, icky Strigoi!! ;)
I wouldn't choose fairies because fairies-- in every book I've read about them so far-- have annoyed the crap out of me. Same goes with mermaids. But vampires? Yup, I would take a smokin' hott vamp any day :D
**PS~ OK, I have to clarify, because people are wondering: I'm not annoyed by ALL mermaids (and probably not by all fairies) but just based on the books I've read about them so far-- they annoy me.
Lost Voices
was a great book, but trust me, if you read it, you will get super annoyed at mermaids too lol! I haven't found a really good fairy book I can relate to yet, besides maybe
Tithe
by Holly Black... Don't worry guys, I plan on reading many more books with both fairies and mermaids, until I find something I like!
<-------------- Oh, and speaking of Vampire Academy-- has anyone gotten their hands on the VA graphic novel yet?? I am pretty much
dying
to read this!!