OK guys, so not gonna lie, I am so incredibly psyched that my 500 Follower Giveaway was SUCH a huge success! Get this: over
425 PEOPLE
entered the giveaway, and there were over
2,600 entries!
AND-- I'd like to also point out-- I'm now almost at 900 followers! How awesome is that?! You guys are amazing, just wanted to tell ya :)
Alright, so now for the winners!!!
~First Place~
~Second and Third Place~


A big "thank you" to everyone who participated!
So what's up next, you ask? Well, myself and the wonderful Tiffany from over at
For Those About to Read
are both hosting a super-awesome
"Bright, Young & Luxe" Giveaway Hop
in celebration of Anna Godbersen's latest release,
Beautiful Days
! You can sign up between now and September 5th to link up and host your own giveaway with us, OR you can check back between September 10th-20th to participate in the
MANY giveaways
that will be going on during the Hop! We are definitely looking forward to seeing you all there, so stay tuned!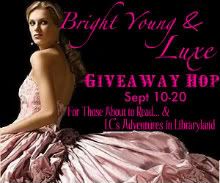 Click this image to sign up for the Hop!!